White granulated sugar from Stevia Leaf Extract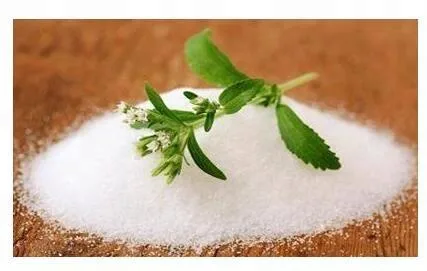 Product Description
a new kind of sweetener from Chrysanthemum (or Chrysanthemum leaves). Over 80% of the sweetness is white to pale yellow crystal or powder, and the hygroscopicity is not very good. Stevioside is easy to dissolve in water and ethanol. When mixed with sucrose, fructose, glucose, maltose and so on, the sweetness of stevioside is more pure, and the sweetness can be synergistic.
Characteristics
As stevioside have the advantages of high sweetness, low calorie, no metabolism, non-toxic, safe, and long aftertaste in the human body, all the countries of the world are actively used to replace sucrose.
Differences between Stevioside and Sucrose
stevioside has high sweetness and low heat value. Physical chemistry is stable, no fermentation, so it can extend the shelf life of sucrose products. Stevioside has high sweetness and long duration without browning, which is beneficial to maintain the true color of beverage and food.
Natures
| | |
| --- | --- |
| Melting Point | 198ºC |
| Specific spin luminosit | D25 -39.3°(c = 5.7 in H2O) |
| FEMA | 4728 | GLUCOSYL STEVIOL GLYCOSIDES |
| FEMA | 4763 | STEVIOSIDE |
| Refractive index | -39.3 ° (C=6, H2O) |
| Storage conditions | 0-6ºC; |
| Solubility | DMSO: soluble 25mg/mL, clear |
| Color | white |
| Merck | 14,8810 |
| CAS database | 57817-89-7(CAS DataBase Reference) |
Application
Stevioside as a new sweetener, can be widely used in all kinds of food, beverage, daily chemical industry. It can be said that almost all sugar products can be stevioside substitute part of sucrose or all substitute for saccharin and other chemical sweeteners.
1.Stevioside can be used as a flavor enhancer for the following products: stevioside and stevioside A can be used for ice cream and soft drinks; stevioside is used to enhance the sweetness of chlorinated sucrose, aspartame and cyclamate; stevioside and its salts can be used for ripening of fruit and vegetables. Stevioside is added to food and beverage as aromatic flavor. Flavor enhancer; stevioside is used in salt free storage of foods. Stevioside is used in making hard sugar with lactose, maltose syrup, fructose, sorbitol, maltitol and lactulose. Stevioside can be used to produce gum and bubble sugar, and stevioside can also be used to produce a variety of flavors.Stevioside can also be mixed with sorbitol, glycine and alanine to produce cake powder. Stevioside is very suitable for this purpose because of its thermal stability.
2.in various soft drinks, such as low-energy cola drinks, stevioside and high fructose syrup can also be used to sweeten. Stevioside can also be used in solid beverages, healthy drinks, sweet wine and coffee. Steviodies are low calorie sweeteners. The heat value of steviodies is only 1/300 of sucrose, which is not absorbed after intake of human body and does not produce heat. When steviodies are mixed with sucrose fructose or isomerization sugar, the sweetness can be improved and the taste is improved. Stevioside can be used in confectionery, pastry, beverages, solid beverages, fried small foods, condiments, preserves. Use appropriate amount according to production needs.
Team Cooperation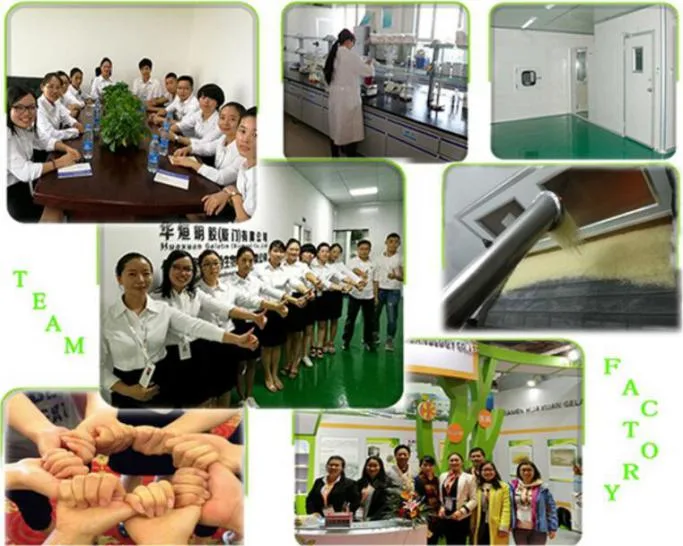 Certificate