100% Pure natural powder erythritol bulk used in creamer
Description of Erythritol:
1.Erythritol is a very popular sweetener, which is unique natural polyol sweeteners with
non calorie and clear cool mouth feel.
2.Erythritol is a polyol (sugar alcohol) which is very popular for use in baking and as a general sweetener in low carb diets.
3.Erythritol, as alternatives to sugars and as part of a comprehensive program including proper dental hygiene has been recognized by the American dental association.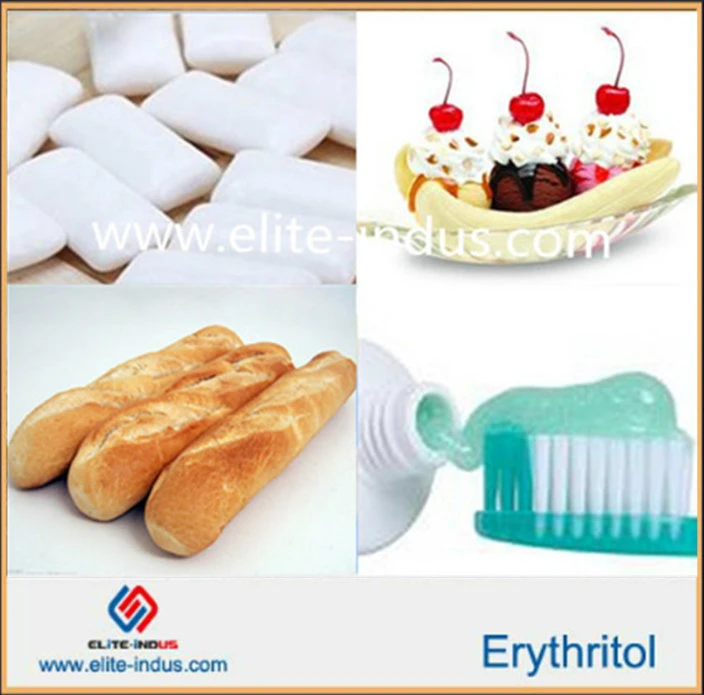 Properties of Erythritol:
1. Low in calories: Erythritol has a very low caloric content;
its value is 0. 2 calories per gram for food labeling purposes in the united states and 0 (zero) calories per gram.
2. High digestive tolerance: Erythritol is rapidly absorbed in the small intestine due to its small molecular size and structure.
3. Safe for diabetes' person: Single dose and 14-day clinical studies demonstrate erythritol does not affect blood serum glucose or insulin levels.
4. Do not cause tooth decay: Erythritol like other polyols is resistant to metabolism by oral bacteria
which break down sugars and starches to produce acids which may lead to tooth enamel loss and cavities formation.
According to a 3-year study in 485 school children, erythritol was even more protective
against dental caries than xylitol and sorbitol.
Overall, erythritol appears to be an excellent sweetener.
*It contains almost no calories.
*It has 70% of the sweetness of sugar.
*It doesn't raise blood sugar or insulin levels.
*Human studies show very little side effects mainly minor digestive issues in some people.
*Studies where animals are fed massive amounts for long periods of time show no adverse effects

Specification of Erythritol:
| | |
| --- | --- |
| Item | Specification |
| Appearance | White crystalline powder |
| Assay (on dry basis) | 99.5-100.5% |
| Loss on drying | ≤0.20% |
| PH | 5.0-7.0 |
| Reducing Sugars | ≤0.3% |
| Ribitol and glycerol | ≤0.1% |
| Melting range | 118~122ºC |
| Ash | ≤0.1% |
| Heavy metal(pb) | ≤1.0 mg/kg |
| Arsenic(count as As) | ≤0.3 mg/kg |
| Lead(Pb) | ≤1.0 mg/kg |
| Bacterium total | ≤300 cfu/g |
| E.Coli | ≤30 MPN/100g |
Application of Erythritol:
Widely used in drinks, candy, cake, chocolate, bakery products, table sugar etc.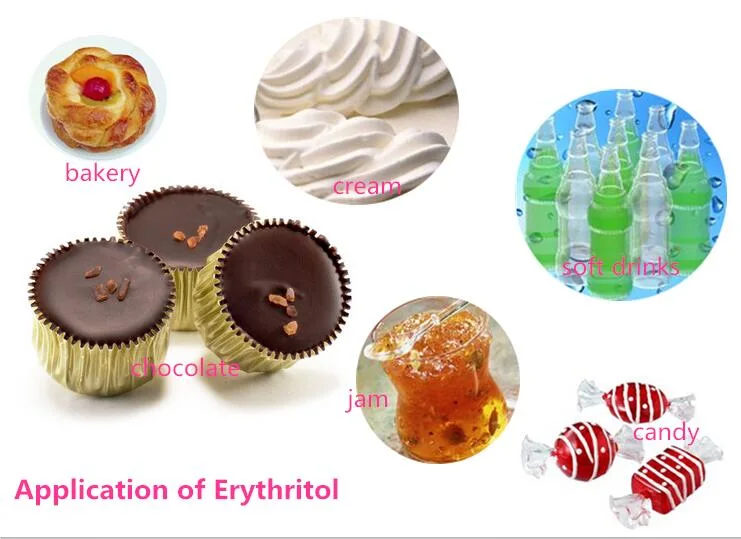 Packing of Erythritol:
25kg/bag, about 18.75mt on pallet/20'gp; about 20 mt without pallet/20'gp

Service
1.Products: we make sure the products are popular and hot selling in the market
2.R&D Service: we research and make your requested products.
3.Samples: available for your testing.
4.After-sales service: we keep you informed of the tracking information of shipment.
5.System: we offer the intergrated and pleased purchasing experience to you for saving your time and cost.
6.Promotion: we reward customers with different promotional activities